Group Grading 
The final group grading of the year is on Sunday 10th December 2023.
If you're interested in grading then please have a chat with an instructor before putting your name down on the grading list on reception.
Please ensure you also take a 'rules and conduct' sheet.
Team Sparring 
The final Team Sparring event will be held on Friday 15th December from 6pm, £7 to enter and spectate. This is an in-house event and an excellent way to gain sparring experience and build confidence in a totally safe and super friendly environment.
Two teams, Blue vs Red battle it out for the Team Sparring Championship Cup (which is over 20years old!!!)
You are matched fairly and it's 3×1 minute rounds of Muay Thai scored and judged by our Arjarn Mick Mullaney.
If you're interested have a chat with an instructor and put your name down on the list next to the fire bell.
Upcoming Show
We have two fighters debuting on this show, Bailey Dunn and Riley Carnall. Would be great for them to have some famous WickerCamp support.
Sunday 3rd December Birmingham.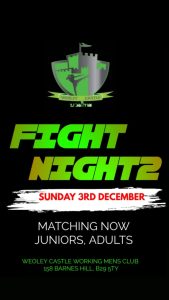 Interclub Saturday 25.11.2023 
Anyone interested in this interclub you need to see or message Trix ASAP. Your details need to be forwarded for matching.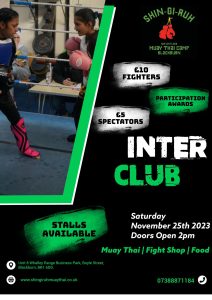 WickerCamp Xmas 🎉🥳 
This year's Xmas gathering will be held at The Kommune in Castle House on Angel Street. This modern contemporary social space has 8 eateries and 2 bars.
Sunday 17th December from 3pm.
We need to know numbers for the venue so please text your name to 07379769213 to book your places.