Group Grading 17.07.2022
Wednesday evening is the deadline to put your name down to grade.
Please ensure you have spoken to an instructor about grading before you pit your name down. DO NOT just put your name down.
Take a 'rules and conduct' info sheet so you understand what is expected.
Grading times will be published online on Thursday and a hard copy will be available to see on reception.
KRUNG Sparring Gloves 
Wednesday is also the deadline to put your order in for KRUNG sparring gloves, tri-colour combination of your choice.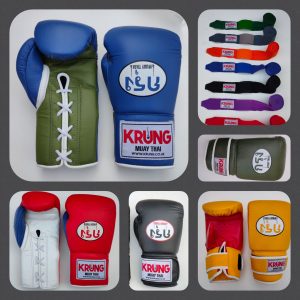 T-SHIRTS, SHORTS and stuff……
Summer tshirts have finally arrived along with a selection  of authentic Muay Thai shorts from Thailand. Great colours and designs available from snazzy modern tattoo print to retro old school.
Left clothing 
There are a lot of left clothes in a black bag in reception………please collect any items by the end of this week as they won't be there after that 😕
Scarfhold Media Presents….
Trix March (2x British, Commonwealth, European, World Champion) in City of Steel documentary