S3 UK Championships Results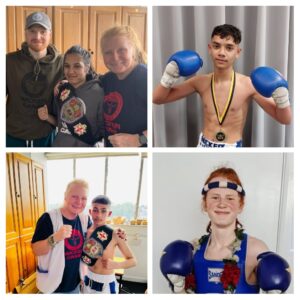 Sebastian fought first and it was a tough fight, the kid was physically stronger and more mature. Sebastian started off very well and won the first round scoring with good long punches and kicks. His opponent changed tactic and used his strength very well from the second round taking Sebastian down in the clinch and by catching the kicks repeatedly. A hard learning fight but he will come back stronger next time.
Franky has had some really hard fights always against more experience fighters and as a result has had more losses than wins. His determination and patience to keep going is admirable. He was really well matched on this show and the kid was very good. Franky fought the perfect fight using excellent footwork and ring craft using his angles to counter attack with well timed kicks. His work rate was excellent scoring with good hands and combinations. A strong points victory to become new S3 English champion.😁
This was Hanniyahs's last junior fight as she is moving up to adult N class in September. Her opponent was bigger (not hard really) but Hanniyah got stuck in from the first round scoring with solid leg and body kick combinations. She used her footwork well, scored with good punches and held her own in the clinch. In the end after a contested decision she was awarded the belt she rightly deserved.😁
Our last fighter was Roo who had a rematch with Alfie who he fought and lost to earlier in the year. Roo has never been fitter and stronger and more determined than he was for this fight. It was well matched, although Alfie is a good head taller and older. It was a close fight but Roo spoiled Alfie not allowing him to use his strengths, Roo looked stronger and more effective in everything he did, his kicks were sharp and fast, his punches were strong and accurate. Alfie worked well using good long knees and body kicks but didn't hurt Roo at all. Surprisingly the judges gave it to Alfie 🙄 even though he thought Roo had it, along with many others🤷🏼‍♀️. Roo knows himself, he is so happy with his performance he said if he loses like that every time he'll definitely become a champion one day 😁
 SUPER SHOWDOWN 25.06.2022 
Tickets are now starting to go so don't wait too long to get yours. James has been training so hard for this fight and it will be one not to miss. A rematch with Dan Bonner and for the WBC INTERNATIONAL TITLE 🏆.