Interclub 08.05.22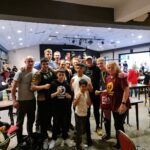 Back row: Andy, Harry, Lewis, Tomas, Roo, Ben. (Me and James)
Middle row: Guillem, Henry Sebastian.
Front row: Franky, Ezell. Hanniyah(missing🙄)
Well done to all those students who competed yesterday in Manchester. Everyone sparred exceptionally well, you looked well schooled and made WickerCamp very proud.
Elite Show Birmingham 28.05.22 
Henry Chester and Kyle Maxwell will be having their debut fights on this show along with junior fighters Roo MarchMullaney, Sebastian Holub and Franky Sandor. Tickets are now on sale from reception. Adult£35, U16£20.
Gloves and Tshirts 
We are waiting for a delivery of new WickerCamp tshirts in exciting new colours and KRUNG sparring gloves from 12oz to 18oz.
Team Sparring Event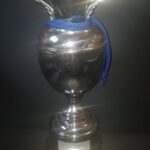 WickerCamp will be hosting its first Team Sparring event since the pandemic on Friday 10th June from 6-9pm.
Team Sparring is an in-house sparring event that has been taking place nearly 20 years. Students are placed into 2 teams, red and blue and are matched up carefully to spar against each other in the ring. The sparring is controlled and technical with a referee overseeing the bout with Trix hosting and Mick judging. Teams are sparring to win the coveted Team Sparring Championship Cup. The entry fee is £5 to all.
Anyone interested please have a chat with Mick or Trix.