Group Grading 17.07.2022 
The grading list is now on reception. Please don't forget to ask for guidance about grading before you put your name down.
Please do not be offended if we tell you to wait a little longer……..we only want what's best for your progression and development and grading too soon when you're not quite ready is not conducive to producing good quality students.
GB Squad training 
Well done to our junior fighters who were invited to attend a UKMF GB Squad training session at Chongdi Academy in Crewe at the weekend. They performed very well and I was very proud of them.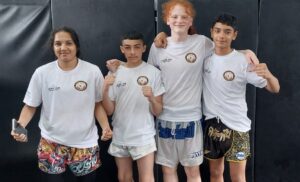 From left: Hanniyah Hamdi, Franky Sandor, Roo March-Mullaney, Sebastian Holub.
Many thanks to the UKMF coaches for an excellent session and everyone who welcomed and looked after us.
Interclub Birmingham 31st July 
Anyone interested in participating in this event please see Trix.